If you're designing magazines, you are probably looking to use fonts that are clear, easy to read, and recognizable. This collection of fonts from Creative Market designers are excellent choices for any magazine, catalog, or print publication— they're crisp, clean, and unforgettable.

Download the PDF

Remember key typography concepts

Grab this handy cheatsheet summarizing some of the most important typography terms.
Isidora Sans
Latinotype created Isidora Sans, a sans serif font collection that contains geometric, clean typefaces. There are 28 distinct fonts, including 7 different weights, ranging from thin to black. The designer of Isidora Sans recommends it for titles, books, magazines, and corporate design, as well as packaging and logotypes.
Chronica Pro Family
The Chronica Pro Family of fonts contains 18 sans serifs that were designed for legibility and editorial use. Mostardesign Type Foundry created this font family focusing on balance: they coupled clean geometric details with a humanist spirit. This font family supports international characters including Central, Western, and Eastern European language symbols.
Solitas Slab
Insigne created Solitas Slab, a new typeface that combines the "flair of the Wild West" with "sign painters and lettering artists of the 1800s." This font family supports Central and Eastern European languages.
Bebas Neue Pro
Dharma Type created Bebas Neue Pro, a font that has been popular for 10 years as an uppercase-only font. This new version of Bebas Neue includes lowercase letters, italics, and thinner weight variants to add diversity to your typography schemes.
Winslow Font Family
Winslow was created by Kimmy Design. This font family contains 6 weights as well as alternative features that add extra flare, such as tail serifs, discretionary ligatures for capital letters, alternative ampersands, and start swashes for capital letters. The designer explains that Winslow was designed to feel playful, with delicate features.
Queulat
If you're looking for a font with a strong personality, check out Queulat. This font is a hybrid typeface that has two distinct styles (regular version and alt version), inspired by Modern and Grotesk aesthetics. The foundry behind Queulat, Latinotype, explains that it is an ideal choice for logotypes and labels.
This font family also comes with a Unicase version, which is ideal for distinctive headings and brand design. Unicase fonts feature a single alphabet with no upper or lowercase letters, just a single height for all letterforms.
Queulat Cnd
Queulat Cnd is a condensed version of Queulat, and it has all of the same special features as the original typeface. It also has a strong personality, but since it is a condensed version, it's a particularly great choice for headings and subheadings in a print publication.
This font family includes a regular version and an alternative version, which features special accents like teardrop terminals in letters 'k' and 'v', as well as a double-story 'a'. You can see the subtle, but appealing difference here: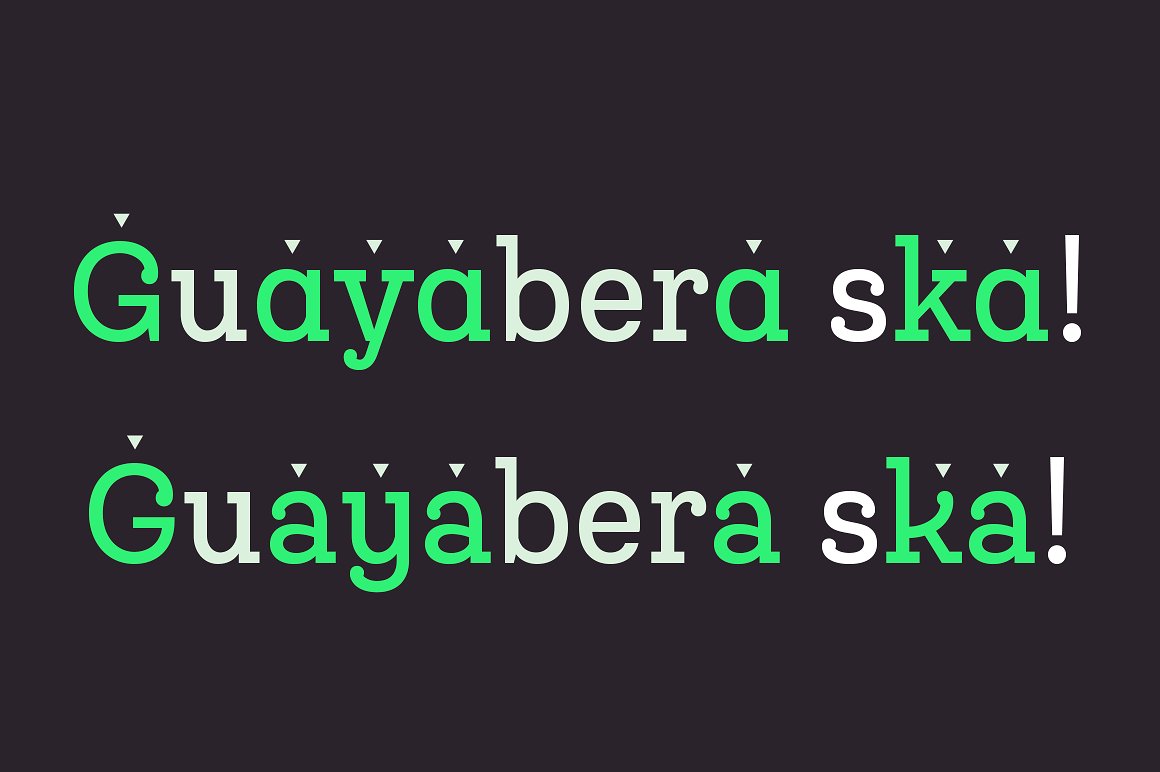 Pin It
TT Jenevers
TT Jenevers is a font family that was created by Typetype. The font is a modern serif font, and it is influenced by Dutch serifs. The Dutch influence is apparent in the asymmetrical shape of the serifs and the irregular slant of ovals. The family includes 12 fonts, with small capitals for Cyrillic and Latin alphabets, standard and old-style figures, and stylistic alternates. With TT Jenevers, you get fonts in 6 weights and 6 true italics.
TT Jenevers has OpenType features like ligatures and stylistic alternates. When you download this font, you also get two dissimilar stylistic sets, one which appears more hand-written than the other.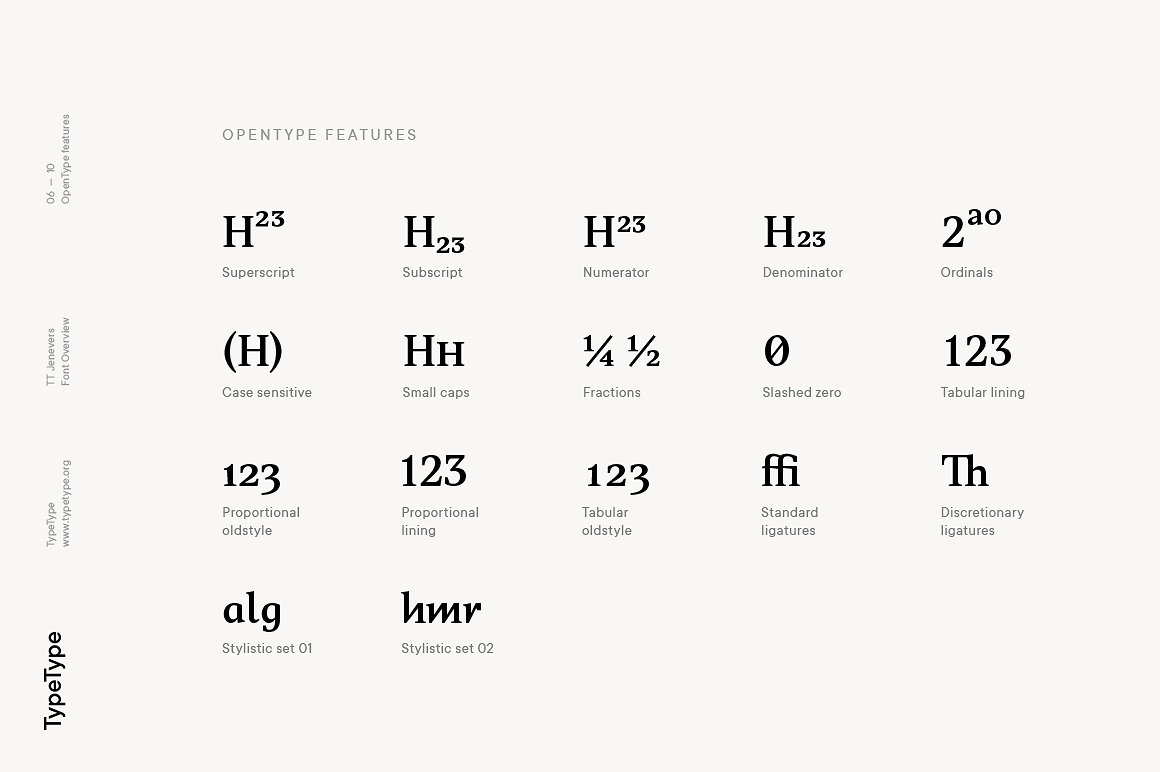 Pin It
Sánchez Niu
In 2011, Latinotype designed the popular Sanchez font. Sanchez Niu is a redesigned version with improvements that make it a great choice for lengthier text. While the look is basically the same, the proportions are shifted and there are a number of new characters included. Latinotype also included OpenType features (including small caps, old-style figures, stylistic alternatives, and more).
Solitas Serif
Solitas Serif is a font created by Insigne. According to the designer, it's a font intended for use by a designer who wants a typeface that is serif but not stiff. Just like its sibling Solitas Slab (described above), Solitas Serif allows you to play with a number of weights that go from extra light to extra bold. This font family includes 42 unique fonts that come with various OpenType features like ligatures, ordinal numbers, fractions, denominators, superscripts, and subscripts.
Venice Serif - Font Family
Creative Solutions came up with Venice Serif - Font Family, which includes a total of 8 fonts representing four weights (light, regular, medium, and bold) and two variants (italic and regular). The designer recommends that it be used for projects in advertising, corporate design, packaging, editorial, and branding. It is also optimized for screens which makes it an ideal choice for online publications.
Gauthier FY Family
There are 6 fonts in the Gauthier FY Family, which was created by BlackFoundry. This is a family of contemporary, old-style serif typefaces that have big x-heights, small caps, and a detailed italic variant. Co-created by Jérémie Hornus & Alisa Nowak, Gauthier was originally inspired by Renaissance typefaces.
Isabel Semi-Condensed
Isabel Semi-Condensed is a font by Letritas. Designed for use by kids and teens, this is a friendly, whimsical font that is also easy to read. It can be used for titles and subheads, as well as longer texts. This family comes with 3 variants (regular, italic, and unicase) in 5 different weights, for a total of 15 individual fonts.
TT Tsars
TypeType came up with TT Tsars, a font inspired by fonts of the 18th century. This is a collection of fonts that is specifically created for titling. All in all, you can take advantage of 20 individual fonts in 5 subfamilies, where each contains 4 fonts. TT Tsars supports more than 70 languages and has OpenType features.
Quincy CF Font Family
Quincy CF Font Family provides a pleasant reading experience to viewers. The designer, Connary Fagan, crafted this highly readable family by adding small variations and human touches to the letters.
Once you've chosen a font for your magazine, you can choose other design elements for the publication. Creative Market designers have come up with a slew of assets to enhance your layouts from unique photos to modern logos.
---
Products Seen In This Post:

Download the PDF

Remember key typography concepts

Grab this handy cheatsheet summarizing some of the most important typography terms.